Pre-ironing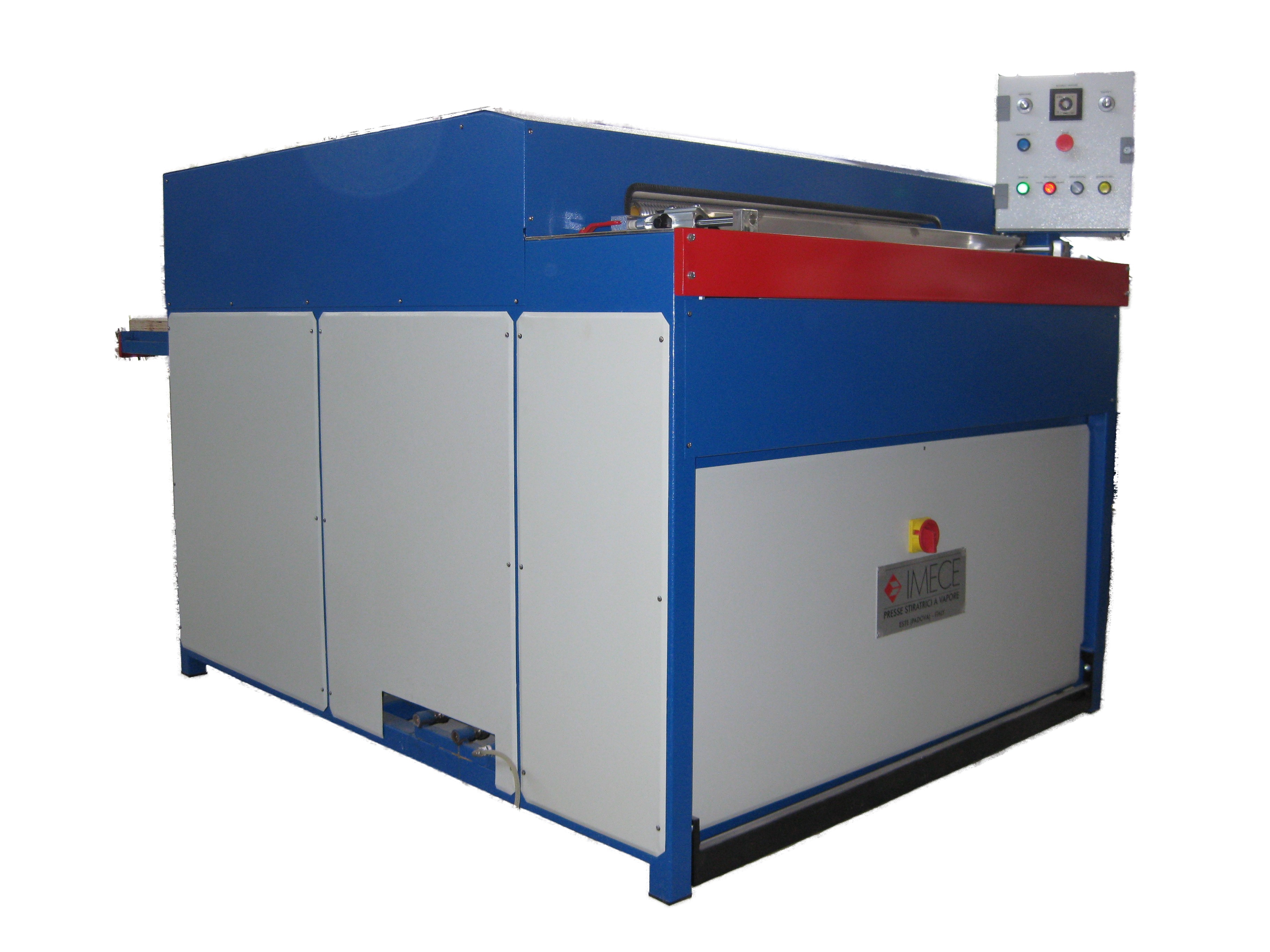 Automatic pre-iron steam machine with rotating lower and upper belt and new automatic stacker, inside the machine for reduced total dimensions.
Useful dimensions: 0,90 mt or 1,20 mt standard; other dimensions by request.
Feeding and unfolding speed is electronically controlled: upper and lower conveyor belts travel at the same speed.
Lower table heated by steam and steaming with variable control.
Upper table heated by steam. Pressing can be controlled according to the customers needs.
Only one worker.
Electromechanical and pneumatic automation, with push buttons, selectors and electronic timers to set up the working cycle.
Optional: electronic control with PLC and touch-screen operator panel to set up the working cycle.
To connect to the steam source.
Dimensions

1,80 mt x 1,70 mt x H 1,50 mt ( versione 0,90 mt )

2,10 mt x 1,70 mt x H 1,50 mt ( versione 1,20 mt )

Weight

500 Kg

Voltage

380 V

Frequency

50 Hz / 60 Hz

Power consumption

1 kW - 2,5 A

Steam pressure

3.5 bar

Steam consumption

35 kg/h

Air compressed pressure

6 bar

Steam pipe

1/2"

Condensed steam pipe

1/2"

Air compressed pipe

1/4"

Vacuuming pipe

60 mm
zzzzzzzzzzzzzzzzzzzzzzzzzzzzzzzzzzzzzzzzzzzzzzzzzzzzzzzzzzzzzzzzzzzzzzzzzzzzzzzzzzz zzzzzzzzzzzzzzzzzzzzzzzzzzzzzzzzzzzzzzzzzzzzzzzzzzzzzzzzzzzzzzzzzzzzzzzzzzzzzzzzzzzz zzzzzzzzzzzzzzzzzzzzzzzzzzzzzzzzzzzzzzzzzzzzzzzzzzzzzzzzzzzzzzzzzzzzzzzzzzzzzzzzzzzz zzzzzzzzzzzzzzzzzzzzzzzzzzzzzzzzzzzzzzzzzzzzzzzzzzzzzzzzzzzzzzzzzzzzzzzzzzzzzzzzzzzzz zzzzzzzzzzzzzzzzzzzzzzzzzzzzzzzzzzzzzzzzzzzzzzzzzzzzzzzzzzzzzzzzzzzzzzzzzzzzzzzzzzzzzz zzzzzzzzzzzzzzzzzzzzzzzzzzzzzzzzzzzzzzzzzzzzzzzzzzzzzzzzzzzzzzzzzzzzzzzzzzzzzzzzzzzzzz zzzzzzzzzzzzzzzzzzzzzzzzzzzzzzzzzzzzzzzzzzzzzzzzzzzzzzzzzzzzzzzzzzzzzzzzzzzzzzzzzz zzzzzzzzzzzzzzzzzzzzzzzzzzzzzzzzzzzzzzzzzzzzzzzzzzzzzzzzzzzzzzzzzzzzzzzzzzzzzzzzzzzzz zzzzzzzzzzzzzzzzzzzzzzzzzzzzzzzzzzzzzzzzzzzzzzzzzzzzzzzzzzzzzzzzzzzzzzzzzzzzzzzzzzz
L'azienda