Button Holes Marker
Button Holes Marker 8-10-12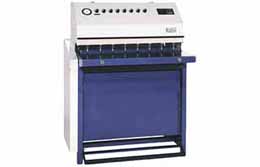 Automatic hot marker machine by heated marking-heads: the machine is equipped with 8, 10 or 12 indipendent marking-heads.
Marking-heads movement is motor driven pressing push buttons, a pedal pneumatically controls marking-heads lowering and marking time is controlled by an electronic timer.
Marking-heads temperature is controlled by electronic thermoregulator.
Only one worker.
| Dimensions | 1,50 mt x 0,70 mt x H 1,40 mt |
| --- | --- |
| Weight | 150 Kg |
| Voltage | 220 V |
| Frequency | 50 Hz / 60 Hz |
| Power consumption | 1 kW - 2.5 A |
| Air compressed pressure | 2 bar |
| Air compressed pipe | 1/4" |