Ironing Tables
Mod. Tr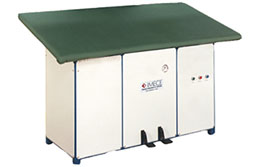 Ironing table heated by steam, steaming and vacuuming.
Plane dimensions: 1,80 mt x 0,90 mt standard; other dimensions by request.
Supplied with vaccum, condensed trip, mechanical pedals.
To connect to the steam source or supply with included electric steam generator.
Optional: steam iron equipment; electric pedals and automatic steaming and vacuuming electronic timers.
Dimensions

2,00 mt x 1,00 mt x H 1,00 mt

Weight

500 Kg

Voltage

380 V

Frequency

50 Hz / 60 Hz

Power Consumption

0.75 kW - 2 A

Steam Pressure

3.5 bar

Steam Consumption

20 kg/h

Air Pressure

6 bar

(only with automatic steaming and vacuuming )

Steam Pipe

1/2"

Condensed Steam Pipe

1/2"

Air Pipe

1/4"

Vacuuming Pipe

60 mm